Got back from *AUS* LAN 2004 yesterday and although I lagged in on the second day it fuckin rocked. Venue good, booze good, setup good, mates good good good. Anyway for the other *AUS* LAN virgins going next time here's some tips that I picked up.

1. Getting There Is 1/4 The Fun
What better excuse for a road trip with some other AUS drunkards, if you want a challenge (read shit fight) try dragging your GF or wife along and if you really want to test your metal do like Centauris & Fornax and throw a chronic farting dog in the back for some fun. This leads us to the second & third things I learnt while traveling up to Brisbane.
---
2. Over Inflating Your Tyres & 140km An Hour Don't Mix
What also doesn't mix too well is a 140km blowout and a GF/Wife in the passenger seat.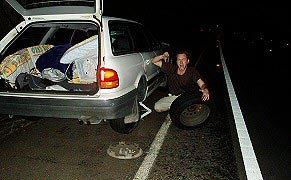 ---
3. Police Can Help You With Your Traveling Strats
This nice young man in blue pulled me over and offered to help me work on my current strategy for getting to the LAN. Apparently he had nabbed a screen of me exploiting a speed hack that had me moving quicker than everyone else.
After mentioning the *AUS* LAN his eyes lit up, I said I would put in a good word for him when he applied and that I loved moustaches. With that he dropped my fine from $400 down to $127 and we were back on the road.
---
4. Get A Good Spot
This can make & break a good LAN'ing experience, under a fan, close to the fridge and between some slutz with plenty of booze is a nice start. Also being able to wave at the people you just C4'ed the fuck out of is a must.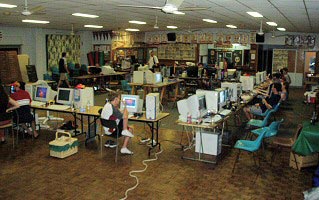 ---
5. Passing Out First At A LAN Can Be Risky
An obvious rule but one that some LAN's like our own Davaro and claytons member Stiiixy ignored. Above we see that Stiiixy has received a finely crafted paddy of shaving cream on his head. The more crafty, light sleeper behind him (Davaro) narrowly avoided the same fate because of his own well tuned Cream Detector 2000 (TM).
---
6. *AUS* BF Commanders Are Toad Magnets
Although this was only rumoured to be true, it wasn't until this LAN that DSL's raw animal magnetism was witnessed by CaptTerrific. Although not much to look at, the local lady above was keen as mustard and had most of her original teeth.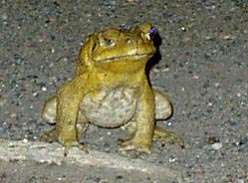 ---
7. Its Better Value At A LAN Centre If You Actually Face The Computers
Three days of no sleep can often confuse the *AUS* brain, here we have DSL, CaptTeriffic, Plow & Davaro just before they worked this rule out and turned around.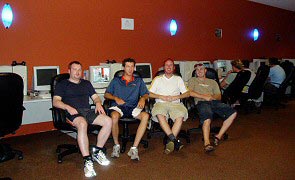 ---
8. To Avoid Cleaning Up, Sleep In
This excellent exploit was discovered by team bums CT & DSL. The trick is to sleep in and stay at your hotel room while other hardworking upstanding clan members help clean and pack up the LAN.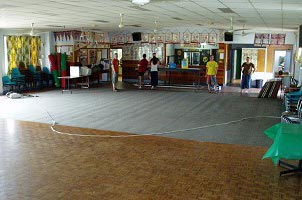 ---
9. Look After Your CD's Because Dogs Love Leeched Pornage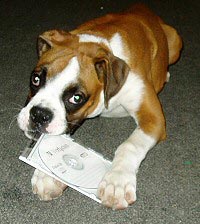 ---

10. Always stick your fingers up at people who can't see you
Here this a good example of giving cheeky monkeys a double big V while they show off their muscles.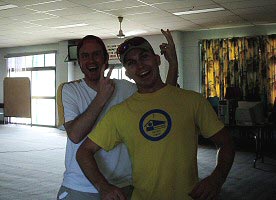 11. *AUS* Annual LAN's rock!
Meeting the blokes in person who have talked in TS and played with is brilliant.
Latest news

Newest members
04/07/15 - jaydageezer
02/07/15 - gusrulz
03/06/15 - AussieDevil
01/03/15 - Jegasaurous
25/02/15 - Cozmo858
Recent battles
01/03/15 - *AUS* vs VN
26/02/15 - *AUS* vs JKS
22/02/15 - *AUS* vs D2K
18/02/15 - *AUS* vs AEF
15/02/15 - *AUS* vs Tgl
Other useless stats
Days in operation: 5,971
Current members: 218
Former members: 1,150
Matches played: 1,992
Forum posts: 738,810