Yes, gaming clans can get a mention in the real world...
6th April 2005 - Sydney Morning Herald (Radar)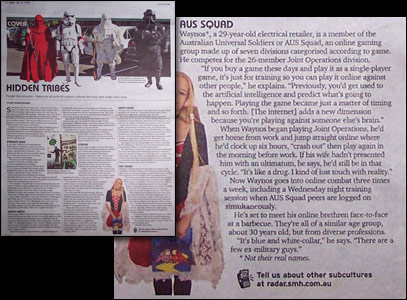 I nearly choked on my lunch when I saw the article. It turned out that Darth*AUS* had spoken to a journalist back in January about online gaming clans generally. Darth certainly hadn't expected the article to focus on him and although clans aren't all that much of a subculture anymore, we still loved the attention.
The article can be found at:
http://blogs.smh.com.au/radar/archives/2005/04/hidden_tribes.html
September 2004 - PC Powerplay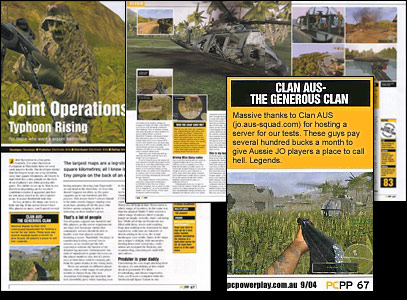 *AUS*'s Joint Operations Division was lucky enough to get a mention in September's edition of PC PowerPlay.
Powerplay were invited to play on *AUS*'s server in order to review the game. Our aim was to increase the JO community and hope that some ISPs would host some Australian servers. Although servers didn't eventuate, we all got a buzz seeing the article.
April 2019 - WomANZ
Moving online now and one of our members, Birnabear, talks about streaming and gaming with WomANZ.
WomANZ is an initiative designed to create professional connections and opportunities for women in the content creation and esports industry across Australia and New Zealand.
Read the full interview at WomANZ.
Seen us somewhere else? Give us a shout.
Latest news

Newest members
04/07/15 - jaydageezer
02/07/15 - gusrulz
03/06/15 - AussieDevil
01/03/15 - Jegasaurous
25/02/15 - Cozmo858
Recent battles
01/03/15 - *AUS* vs VN
26/02/15 - *AUS* vs JKS
22/02/15 - *AUS* vs D2K
18/02/15 - *AUS* vs AEF
15/02/15 - *AUS* vs Tgl
Other useless stats
Days in operation: 5,971
Current members: 218
Former members: 1,150
Matches played: 1,992
Forum posts: 738,810